Past Award Recipients
2021
Robert Anderson

2020
2018/2019
Regional Coordinators for Lunar Occultations
Jan Manek, Mitsuru Soma, Dave Gault
2017
Regional Coordinators for Asteroidal Occultations
John Talbot, Steve Kerr, Eric Frappa,
Tsutomu Hayamizu, Brad Timerson
2016
2015
2014
2013
2012
2011
2010
2009
2008
2007
---
Fumi Yoshida - 2022 DaBoll Award Recipient

---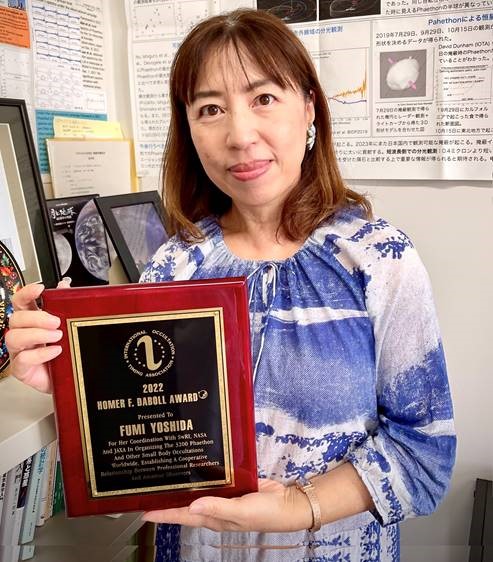 Fumi Yoshida is the member of DESTINY+(

D

emonstration and

E

xperiment of

S

pace

T

echnology for

IN

terplanetary vo

Y

age with Phaethon flyby and dust science) project with plans to observe 3200 Phaethon through spacecraft flyby mission by JAXA and PERC.

Phaethon is the special active asteroid also known as the parent body of the Geminid meteor shower. Her team has made and will continue to make preliminary ground-based observations for 3200 Phaethon to ensure the success of the mission. Yoshida is in charge of these ground observations. In cooperation with NASA, SwRI and IOTA, she asked observers around the worldwide to observe occultations by 3200 Phaethon starting from 2018, and organized her own observation team composed of professional researchers and amateur observers. Right after that, the first successful observation was made. The fantastic 2019 July 29 result observed in the western USA was organized because of what her team requested to IOTA in North America.

More efforts led by her have resulted in 9 successful occultations worldwide thru 2021 of small objects down to 6 km diameter in size. Among them, the occultation on Oct 3, 2021 in Japan was a great success, with 18 sites positive (7 sites miss, the other 11 sites failed) by a 36-site observing party led by her.